Crypto This Week: Crypto & NOBI News This Week
What Happened in the Crypto Industry & NOBI Over The Last Week?
Hi, NOBI's! This second week of September, the crypto sector is buzzing with surprising news and events. The Merge, the historic agenda of Ethereum and blockchain technology, has officially launched. Aside from that, rumors circulated around viral hacker Bjorka, who claimed to have 127 BTC (equivalent to Rp. 41 billion). Then, what else? Let's take a look at what's new and interesting we have for you!
1. Viral
Hacker
Bjorka Owns 127 BTC, Worth 41 Billion Rupiah!
Bjorka, who is currently going viral for leaking a lot of important Indonesian data, turns out to have stored 127 Bitcoins or the equivalent of 41 billion rupiah. Bjorka is a hacker and a member of the breached.to forum where he sells and shares his hacked data. Bjorka's crypto wallet was leaked in one of the tweets of the Twitter account @darktracer_int (12/9/2022), @darktracer_int is a Twitter platform account for investigating people who commit cyber crimes.
Recently, responding to the news of a young man in Cirebon who was suspected to be Bjorka and was arrested by the government, Bjorka did not remain silent. He stated that the case of wrongful accusation and wrongful arrest occurred because the Indonesian government received misinformation (misinformation) from DarkTracer.
2. The Conservative Party of Canada Elects Pro-Bitcoin Leader Pierre Poilievre as Party Head, Ready to be The Blockchain Capital of The World?
Canadian politician and well-known crypto advocate Pierre Poilievre has taken over the Conservative Party of Canada, which looks set to make the current government run away in the next federal election.
The pro-crypto politician has won the leadership of the Canadian Conservative Party in a landslide victory on Saturday, securing 68.15% of election points up for grabs, and far surpassing his closest opponent Jean Charest who received only 16.07% of the vote.
Poilievre has become a well-known proponent of crypto and Bitcoin (BTC), advocating for more financial freedom through tokens, smart contracts and decentralized finance. Earlier this year, Poilievre urged Canadians to elect him as their leader to "make Canada the blockchain capital of the world."
3. Gets in on The Merge Excitement, Google Is Counting Down to Ethereum Merge with 'Easter Egg' on Search Engine
The Ethereum network update, also known as The Merge, seems to be a concern for many. Google has also enlivened this historic process by launching a count down feature on its website.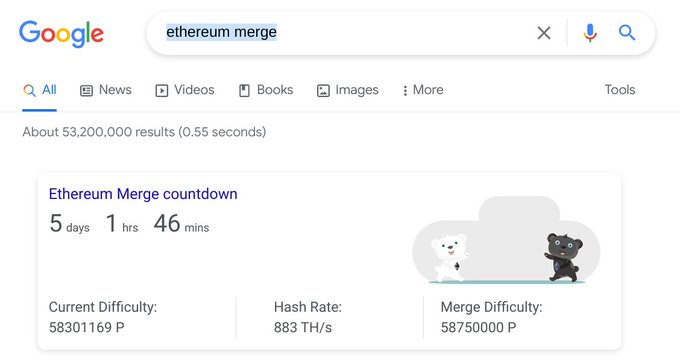 To display the doodle count down The Merge, you must Type "ethereum merge" in the Google search engine field. It will generate a countdown clock, difficulty level (how many times a miner has to compute a hash to log a block of transactions), hash rate (combined total computing power used across the network), and a cartoon of two happy bears approaching each other with outstretched arms.
4. Starbucks Is Brewing A Web3 Based Rewards Program Using NFTs, What Are Its Exclusive Benefits?
Citing Yahoo Finance, on Monday, September 12, 2022, the Seattle-based coffee giant unveiled the first details for Starbucks Odyssey, using blockchain technology discovered via cryptocurrency.
The program, launched later this year, will allow members to earn branded NFTs, or stamps, by completing activities such as games or challenges that center around Starbucks knowledge. The stamp can be used for new benefits and experiences, including merchandise, a virtual espresso martini-making class, or a trip to the Starbucks Hacienda Alsacia coffee farm in Costa Rica.
"Starbucks has always been the third place, the place between home and work where you feel the warmth of connection through coffee, community and a sense of belonging," said Chief Marketing Officer Brady Brewer in an official statement, quoted Tuesday (13/9/2022).
5. Terra Co-Founder Do Kwon Faces Arrest Warrant in South Korea, LUNA & LUNC Nosedive?
Do Kwon Terra LUNA will be detained, following the issuance of a warrant from the court in South Korea. Do Kwon and several of the founders of Terraform Labs, the crypto project company, are known to be based in Singapore.
A court in South Korea issued an arrest warrant for Do Kwon, Founder of crypto project Terraform Labs, which issues crypto LUNA and stablecoin UST. Both projects collapsed, after LUNA's own price went to zero a few months ago. Meanwhile, the value of UST is no longer one to one with 1 US dollar.
The arrest warrant was not only addressed to Do Kwon alone. There are the names of 5 other people, who are the founders of the company, including Nicholas Platias (co-founder) and Han Mo (an employee). Reporting from Bloomberg, Wednesday (14/9/2022), the court in Seoul said the six people were suspected of violating the capital market law, in which the crypto project was categorized as illegal securities.
That wraps up for Crypto This Week. We'll see you at the next one!
Find us on Twitter, Facebook, Instagram, or join our Telegram community.
NOBI is available on both Google Play Store and App Store. Download now and create your free account in minutes!
Moving Your Crypto Forward in One App