Crypto This Week: Experts Predicted Asia Will Start The Next Crypto Bull Run
What Happened in the Crypto Industry & NOBI During the Past Week?
Hi NOBI's! The crypto industry has received an immense amount of fresh air in the last week. First, some experts predicted that the next crypto bull run will start in Asia. Next, based on a recent BanklessTimes report, Bitcoin is still considered a safe haven for 67% of millennials in 2023. The most remarkable feature was China's quiet backing for Hong Kong for its crypto ambition. What else? We recap what's been happening in the crypto industry during the past week!
1. Crypto Experts Predicted Bull Run will Start in Asia
Lately, many crypto experts believe that the next bull run will start from the eastern region, namely Asia, with China and Hong Kong holding the key role. This opinion arose after a series of law enforcement against the crypto industry in the United States. The founder of Gemini, Cameron Winklevoss uploaded a tweet on Monday (20/2), the results of thesis revealed that crypto bull run will start from Asia.
My working thesis atm is that the next bull run is going to start in the East. It will be a humbling reminder that crypto is a global asset class and that the West, really the US, always only ever had two options: embrace it or be left behind. It can't be stopped. That we know.

— Cameron Winklevoss (@cameron) February 19, 2023
Furthermore, Coinbase CEO, Brian Armstrong said that strict law enforcement of the new industry would actually encourage the expansion of the crypto business abroad. Then, a similar opinion came from Changpeng Zhao (CZ) which stated that the crypto industry might start using stablecoins that were pegged into Euros, Yen, or Singapore dollars. The potential to switch to stablecoin algorithmic is also quite large. From CZ's statement, it can be seen that the pressure of the United States regulator actually made the encouragement of crypto expansion in the Asian region.
In October 2022, the former CEO of BitMEX, Arthur Hayes also had predicted that bull run would begin when the Chinese crypto market strengthened. However, before that happened, Hayes saw an important role in the crypto industry in Hong Kong. Hayes believes that Hong Kong might be an experimental land for investors in Beijing and the capital center for Chinese players.
2. BanklessTimes Report: Bitcoin is Still a Safe Haven Asset for 67% Millennials in 2023
Not a few who believe that crypto assets, such as Bitcoin (BTC) are promising investments in the future. A new survey even mentioned many millennial generations who view Bitcoin as Safe Haven from their investment. Studies by Banklesstimes revealed that 67% of respondents aged 27-42 considered Bitcoin as a safe instrument for investment, thanks to its decentralized nature and fixed supply limits.
The previous polls even showed that millennials were one of the most active demographic groups in the crypto sector and had a more friendly view than an older generation. According to Banklesstimes CEO Jonathan Merry, the main crypto assets are vital investment instruments for millennials. Because it offers financial freedom and allows them to diversify during economic uncertainty.
Another study in 2021 shows that nearly 50% of millennial billionaires have invested at least 1/4 of their wealth in crypto assets. And despite crypto winter in 2022, this demographic group did not lose interest in crypto. The Alto survey last summer revealed that 40% of US millennial generations were Hodlers. They view crypto as an investment tool that is more attractive than mutual funds. Then, 45% of the millennial generation and 46% Z genes consider investing in digital assets as part of their retirement plans.
3. The Big Cap Crypto Enter the Green Zone despite Negative Sentiment
The price of the majority of big cap or crypto assets with the largest market capitalization is monitored surged during the past week. Its performance lately is seen brilliant even though there are still concerns related to the direction of the global economy. What's more, 2 giant big caps, Bitcoin and Ethereum, have recorded impressive performances in the last 2 weeks.
We can see that the crypto assets with the highest market value are able to gain traction this week. According to Coinmarketcap data as of 12:20 WIB (19/02), the leading crypto coins by market capitalization increased in the previous week. Although several coins have been corrected over the past few days. Bitcoin's price has risen 13.4% in the last week, while compared to yesterday's price, it has increased by 0.33% to US $ 24,709.49, or Rp 375,584,248 per coin.
During this time frame, Ethereum (ETH) price was US$1,696.92 (Rp 25,793,184), a rise of 10.84% weekly. The exchange rate assumption used is the rupiah position at the close of trading last Friday which is US $ 1 equivalent to Rp. 15,200.
| Cryptocurrency | In US dollar | In Rupiah | Daily Change (%) | Weekly Change (%) |
| --- | --- | --- | --- | --- |
| Bitcoin (BTC) | 24,709 | 375,584,248 | 0.33% | 13.40% |
| Ethereum (ETH) | 1,697 | 25,793,184 | −0.20% | 10.84% |
| BNB (BNB) | 315 | 4,793,776 | −0.28% | 2.84% |
| Cardano (ADA) | 0 | 6,080 | −0.38% | 10.10% |
| Polygon (MATIC) | 2 | 22,800 | −2.74% | 20.58% |
Crypto coin movements with the largest market capitalization for a week until Sunday (2/19/2023) midday | Source: CNBCIndonesia
4. Hong Kong's Crypto Ambition Secretly Secured the Green Light from the Chinese Government
Hong Kong's great ambition to become a crypto hub secretly secured the green light from the Chinese government, although until now China still shows the attitude of anti-crypto hardlines. But who would have thought, the Bamboo Curtain Country now actually takes a softer approach to Hong Kong's aspirations to become a crypto hub. Since October 2022, the Hong Kong government has drafted ideas to propose its own law related to crypto regulations that allow retail investors to invest directly. Of course, this regulation is contrary to the prohibitions in China.
Based on a report from Bloomberg published on February 20, representatives from the Chinese liaison office were seen often visiting Kong Kong crypto meetings to understand what was happening. So far, the meeting between Beijing officials and the Hong Kong government took place friendly and close, which was then considered by business operators as a "subtle nod" of Beijing officials who might have begun to be open to see Hong Kong as an experimental land for crypto.
5. Bitcoin Dominance Touches the Crucial Level, Altcoin Season Arriving Soon?
Thanks to the market recovery that occurred since the beginning of 2023, Bitcoin Dominance (BTCD) finally managed to reach its important level. Of course, this movement will also affect the fate of Altcoin in the future. Bitcoin Dominance itself refers to the Bitcoin market capitalization ratio to the total market capitalization of all other crypto assets (Altcoin). If the BTCD number rises, it means that the BTC share in the crypto market also increases. But if it goes down, the advantage of Bitcoin is also decreasing.
But, actually when will Altseason arrive? If BTCD will succeed in realizing a bullish scenario and then breaks out above the resistance level at 44.50%, we still have to wait some time before Altcoin Season can really begin. Maybe the period will only appear after the BTC price increase action is complete and after the BTCD shifts to bearish in the 48%area.
In addition, this interpretation also seems to have the support of the Altcoin Season Index by BlockchainCenter. This index clearly shows that we have experienced a small bitcoin season in early 2023, when the index drops below level 25. Whereas now, the index is shifting again to the neutral area and provides a reading at 43. If the index is rejected From this area, as happened in May 2022, Bitcoin Season will continue. Conversely, if it continues to rise, Altcoin Season can take place in the next few weeks or months.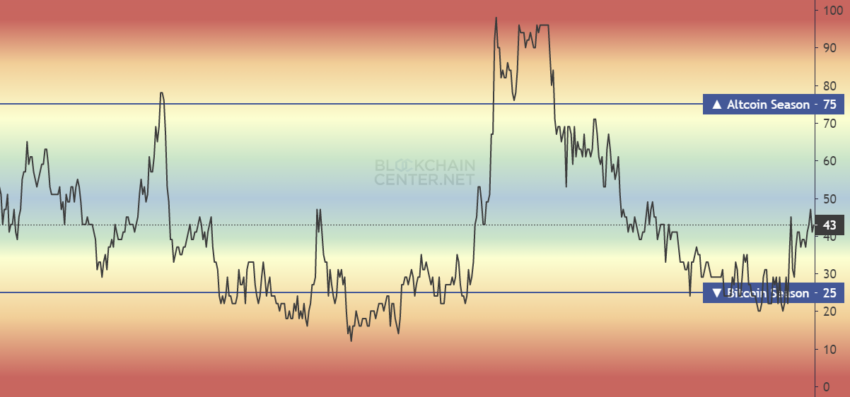 That wraps up for Crypto This Week. We'll see you at the next one!
Moving Your Crypto Forward in One App