Crypto This Week: Silvergate's Decision May Boost Stablecoin Adoption, Says Report
What Happened in the Crypto Industry & NOBI During the Past Week?
Hi, NOBI's! Sometimes it's important to see beyond the eyes can see, especially in the crypto space. The recent closure of Silvergate's instant settlement platform has raised concerns in the crypto industry. However, a recent Kaiko study suggests that Silvergate's struggles may actually boost the adoption of stablecoins. This could ultimately drive growth in the industry, as stablecoins become a more popular choice for traders and investors. What else? We recap what's been happening in the crypto industry during the past week!
1. Kaiko Study: Silvergate Capital's Decision May Boost Stablecoin Adoption
A Kaiko study suggests that Silvergate's decision to shut down its instant settlement platform may drive adoption of stablecoins among crypto investors. This is due to the potential for stablecoins to provide a more efficient and cost-effective way for institutions to transfer money. The study suggests that the closure of Silvergate's platform could lead to increased adoption and usage of stablecoins, ultimately driving growth in the cryptocurrency industry.
The study suggests that investors will deposit their dollars with stablecoin issuers instead of exchanges, receiving stable tokens before moving them to exchanges. However, this means that stablecoin issuers will still require access to a crypto bank, concentrating the risk.
2. Galaxy Predicts Bitcoin NFT Market to Reach IDR68.84 Trillion by 2025
According to Galaxy Digital's report, the NFT market is predicted to grow significantly and reach a total market value of IDR68.84 trillion by 2025. The report also suggests that Bitcoin may become a more widely accepted form of payment, leading to an increase in its market value.
Additionally, the report highlights the potential for blockchain technology to revolutionize various industries beyond finance, such as gaming and art. Overall, the report suggests that the cryptocurrency and blockchain industry has significant potential for growth and development in the coming years.
3. Stablecoin Inflows to Exchanges Signal Possible Crypto Market Rebound
Recent data shows a surge in stablecoin inflows to cryptocurrency exchanges, which may indicate a potential uptick in buying activity. According to BeInCrypto, this increase in stablecoin deposits suggests that traders are looking to take advantage of the current market dip.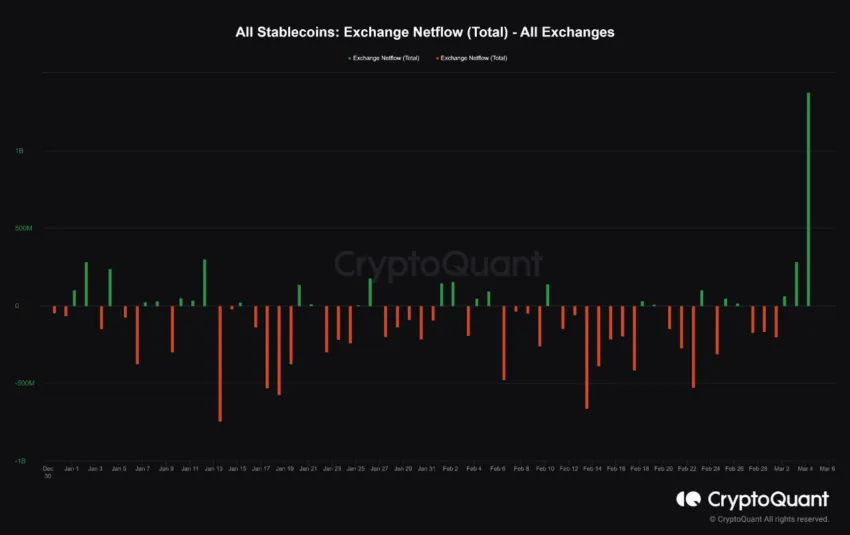 Additionally, some traders may be using stablecoins to hold their funds on exchanges, rather than converting them back to fiat currency, indicating a growing trust in stablecoins in the cryptocurrency market. Overall, the recent surge in stablecoin inflows is a positive sign for the industry and could lead to increased buying activity in the future.
4. CFTC Chairman Reaffirms Ethereum and Stablecoins are 'Going to be Commodities'
In a recent virtual conference organized by the Chamber of Digital Commerce, the Chair of the U.S. Commodity Futures Trading Commission (CFTC), Rostin Behnam, reaffirmed his belief that Ethereum and stablecoins are commodities. This designation could have significant implications for their regulation and usage in the United States.
Behnam emphasized the need for regulatory clarity around cryptocurrencies and blockchain technology, highlighting the CFTC's efforts to address these issues. As the cryptocurrency industry continues to evolve and grow, it is becoming increasingly important for regulators to provide clear guidelines and definitions for cryptocurrencies and related technologies.
5. Banks Can Now Hold Crypto Assets, but There Are Conditions
International banks can now hold cryptocurrency assets as long as they meet certain stringent criteria, according to reports. The criteria include obtaining regulatory approval and adhering to anti-money laundering (AML) and know-your-customer (KYC) requirements, as well as having appropriate risk management policies in place.
The Indonesian Financial Services Authority (OJK), represented by Mirza Adityaswara, has cautioned that investors should still exercise caution when investing in cryptocurrencies, due to their high volatility and lack of regulation. Nonetheless, this change could help pave the way for greater institutional adoption of cryptocurrencies and contribute to the continued growth and development of the industry.
That wraps up for Crypto This Week. We'll see you at the next one!
Moving Your Crypto Forward in One App